TRUE (Total Resource Use and Efficiency) is a comprehensive zero waste certification program recognizing facilities for minimizing resource consumption, preventing waste and redesigning material life cycles so that all residual materials are reused in a closed loop. TRUE was developed as a leadership standard to recognize facilities that have defined and achieved their zero waste goals, making positive impacts on people, the environment and the economy, both locally and globally.
However, leadership is not confined to the moment of certification. The lifecycle of a project provides numerous opportunities to demonstrate commitment to zero waste goals, from the planning phase to the maintenance and improvement of existing work. By formalizing these aspects of the lifecycle, facilities can market the unique and valuable features of their work, and obtain clearer guidance on next steps.
To support this goal, GBCI is now offering TRUE precertification and TRUE recertification to engage projects from the beginning of their journey to zero waste and beyond. Access the education course to get a comprehensive introduction to both.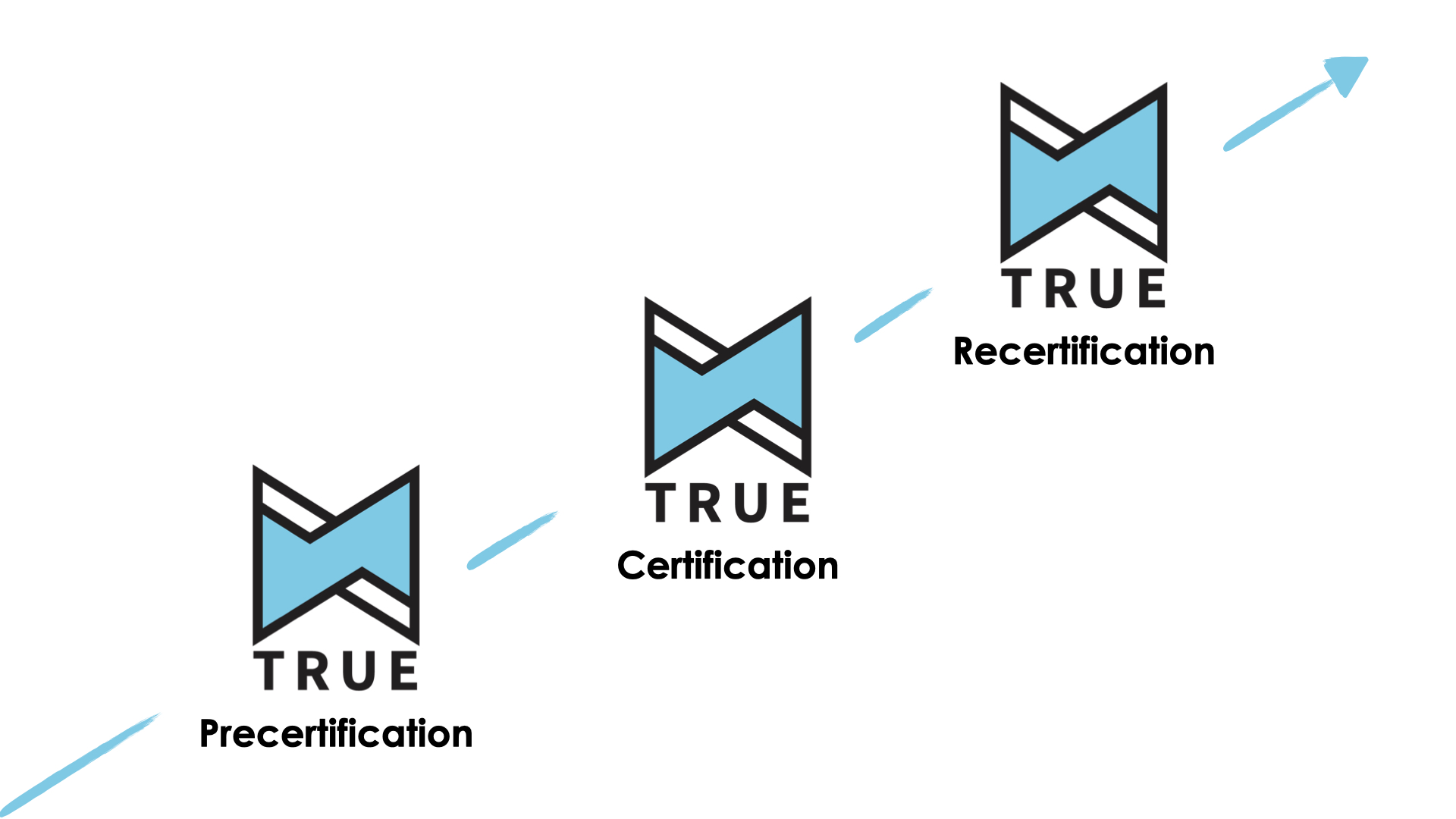 TRUE Precertification
Precertification recognizes projects which have implemented the fundamental actions and policies needed to effectively pursue zero waste and have demonstrated a commitment to achieving TRUE certification. TRUE precertification is available to all projects regardless of the level of diversion performance that has been achieved. It is an optional, incremental pathway to TRUE certification that prioritizes the core actions essential to getting a successful start toward zero waste. Learn more about the precertification process by reviewing the TRUE Precertification Guidance which outlines details about the process.
TRUE Recertification
Recertification recognizes projects that engage in a continuous improvement process and demonstrate leadership after achieving TRUE Certification by maintaining or improving their zero waste efforts. TRUE certified projects may recertify by providing annual performance data demonstrating that the project continues to meet zero waste requirements. Projects may also recertify and pursue additional points to upgrade their previous certification level gaining increased recognition. Review the TRUE Certification Maintenance and Recertification Guidance for more details on the recertification and certification requirements.
Whether you are at the beginning stages of your zero waste journey, already achieved zero waste, or want to push the envelope further – GBCI has an offering to recognize your leadership and commitment to zero waste. We look forward to engaging with all of you wherever you are in your journey to zero waste!